27 Foot Patriot Water Slide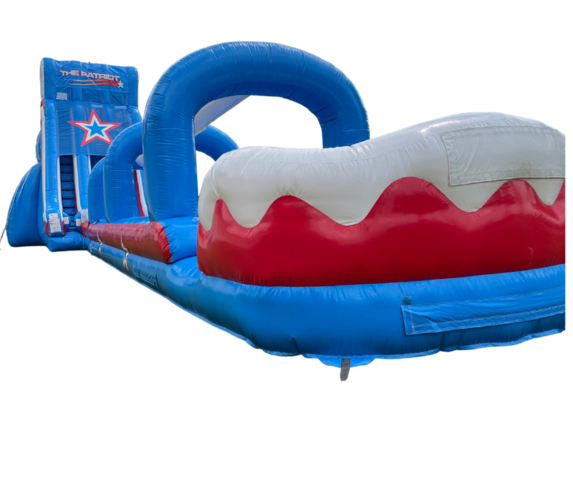 Setup Area: 72ft L x 23 ft W x 29ft H
Actual Size: 70ft L x 21 ft W x 27ft H
Outlets: 2
Age Group: 5 and up
Description
Introducing the 27 Foot Patriot Water Slide, the ultimate summer attraction for endless fun and excitement! This impressive water slide stands tall at 27 feet, making it perfect for thrill-seekers of all ages.
Constructed with top-quality materials, the Patriot Water Slide guarantees durability and safety. Its sturdy frame ensures stability, while the reinforced slide surface provides a smooth and exhilarating ride. With vibrant red, white, and blue colors, this slide is sure to catch everyone's attention and create a patriotic atmosphere.
Featuring a wide slide lane and a steep incline, the 27 Foot Patriot Water Slide offers an adrenaline-pumping experience from start to finish. As you climb to the top, anticipation builds, and once you reach the summit, get ready to plunge down into a refreshing splash pool below. The slide's water sprinkler system keeps the surface wet, allowing you to glide effortlessly for the ultimate sliding experience.
Whether you're hosting a backyard party, a community event, or a water park, the 27 Foot Patriot Water Slide is guaranteed to be the highlight of the day. It's perfect for hot summer days, providing a thrilling escape from the heat and keeping everyone entertained for hours on end.
Safety is always a top priority, which is why the Patriot Water Slide is equipped with safety features such as secure handrails and non-slip steps for easy access. Additionally, the slide meets all safety standards, ensuring a worry-free experience for both parents and participants.
So, why wait? Bring the excitement and joy of a water park right to your doorstep with the 27 Foot Patriot Water Slide. Get ready to make unforgettable memories and create a splash-tacular summer experience for everyone!