5 foot Round Tables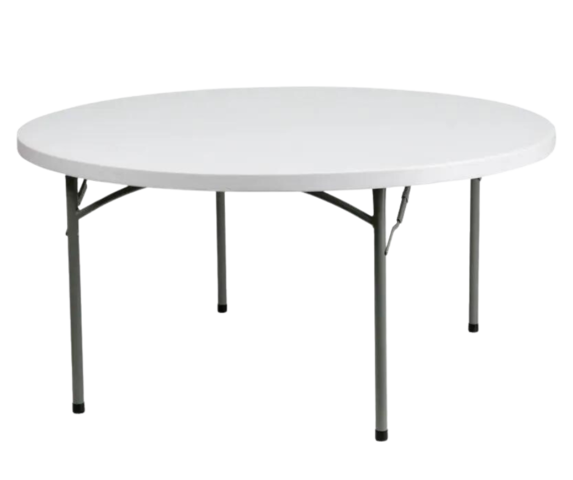 Setup Area: 5 ft L x 5 ft W
Actual Size: 5 ft L x 5 ft W
Description
Introducing our versatile and elegant 5-foot round tables, perfect for any event or gathering. Crafted with precision and attention to detail, these tables are designed to elevate your space and provide a functional surface for various purposes.
The 5-foot diameter of these tables offers ample space for guests to comfortably dine, socialize, or work. Whether you're hosting a wedding reception, corporate event, or family gathering, these round tables create an inviting atmosphere that encourages interaction and conversation.
Made from high-quality materials, our 5-foot round tables are built to withstand the demands of frequent use. The sturdy construction ensures stability, allowing you to confidently place food, drinks, or decorative items without worrying about wobbling or tipping.
Featuring a sleek and timeless design, these tables seamlessly blend with any decor style. Their neutral color palette and clean lines make them a versatile choice for both indoor and outdoor settings. From formal banquets to casual outdoor parties, these tables effortlessly adapt to any occasion.
Transporting and storing these tables is a breeze, thanks to their lightweight yet durable construction. The foldable legs make them easy to set up and pack away, saving you valuable time and effort. Additionally, the compact size ensures efficient storage, even in limited spaces.
Invest in our 5-foot round tables to create a stylish and functional setup for your next event. With their durability, versatility, and elegant design, these tables are sure to impress your guests and leave a lasting impression. Elevate your event experience with our 5-foot round tables today.