6 Foot Rectangle Tables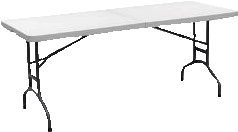 Setup Area: 6ft L x 3ft W
Actual Size: 6ft L x 3ft W
Description
Introducing our versatile and sturdy 6 Foot Rectangle Tables, the perfect addition to any event or gathering. Crafted with durability in mind, these tables are designed to withstand heavy use and provide a reliable surface for all your needs.
With a spacious 6-foot length, these tables offer ample space for seating guests, displaying products, or setting up a buffet. Whether you're hosting a wedding reception, corporate event, or backyard barbecue, our rectangle tables provide the ideal solution for accommodating your guests comfortably.
Constructed with a robust frame and a smooth tabletop surface, these tables ensure stability and ease of use. The high-quality materials used in their construction make them resistant to scratches, stains, and spills, ensuring that they maintain their pristine appearance even after multiple uses.
Transporting and storing these tables is a breeze, thanks to their lightweight design and foldable legs. This feature allows for easy setup and takedown, making them a convenient choice for event planners, party rental companies, and anyone in need of a portable table solution.
Our 6 Foot Rectangle Tables are not only practical but also aesthetically pleasing. Their sleek and timeless design seamlessly blends with any decor, adding a touch of elegance to any setting. Whether you prefer a classic or contemporary look, these tables will complement your style effortlessly.
Invest in our 6 Foot Rectangle Tables to enhance the functionality and visual appeal of your next event. With their durability, versatility, and stylish design, they are sure to impress your guests and provide a reliable surface for any occasion.