8 Foot Rectangle Tables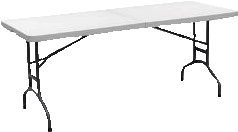 Setup Area: 8ft L x 3 ft W
Actual Size: 8ft L x 3 ft W
Description
Introducing our durable and versatile 8 Foot Rectangle Tables, perfect for any event or gathering. Crafted with top-quality materials, these tables are designed to provide a sturdy and reliable surface for all your needs.
With a generous length of 8 feet, these tables offer ample space to accommodate a large number of guests, making them ideal for weddings, parties, conferences, and more. Whether you're hosting a formal dinner or setting up a buffet, our 8 Foot Rectangle Tables provide the perfect solution.
Constructed with a robust frame, these tables ensure stability and durability, allowing you to confidently place heavy items without worry. The smooth and spacious tabletop offers a comfortable and convenient surface for dining, working, or displaying products.
Transporting and storing these tables is a breeze, thanks to their lightweight design and foldable legs. When not in use, simply fold them down and stack them neatly, saving valuable storage space.
Additionally, our 8 Foot Rectangle Tables are designed with versatility in mind. They can be easily dressed up with tablecloths, runners, or centerpieces to match any theme or occasion. Whether you prefer a classic, elegant look or a more contemporary style, these tables effortlessly adapt to your aesthetic preferences.
Invest in our 8 Foot Rectangle Tables and elevate your event setup with their functionality, durability, and aesthetic appeal. Trust in their quality craftsmanship to provide a reliable and stylish solution for all your hosting needs.