Dunk Tank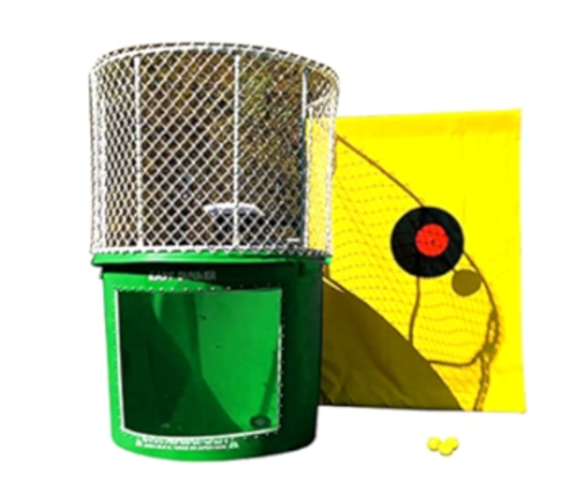 Description
Introducing the exhilarating Dunk Tank! Get ready for a splashing good time with this classic carnival game that guarantees endless fun and laughter.
Our Dunk Tank is perfect for all kinds of events, from backyard parties to school fundraisers and corporate team-building activities. It's a fantastic way to bring people together and create unforgettable memories.
Constructed with safety and durability in mind, our Dunk Tank features a sturdy steel frame and a reinforced target area. The transparent tank allows everyone to see the suspense build as the participant sits above the water, eagerly awaiting their fate.
How does it work? It's simple! Participants take turns throwing balls at the target, aiming to hit the bullseye. With each accurate throw, the target triggers the mechanism, releasing the seat and plunging the participant into a refreshing splash of water. The anticipation and cheers from the crowd make every moment leading up to the splash even more thrilling.
The Dunk Tank is not only a source of entertainment but also a great way to engage participants and spectators. Whether you're looking to raise funds for a cause or simply entertain guests, this attraction will surely draw a crowd and keep them entertained for hours.
Setting up the Dunk Tank is a breeze, thanks to its portable design and easy assembly. It can be conveniently transported to any location, indoors or outdoors, and can be set up in minutes. Our team will provide clear instructions and assist you throughout the process, ensuring a hassle-free experience.
So, what are you waiting for? Make a splash at your next event with our exciting Dunk Tank! It's the perfect addition to any gathering, bringing joy, laughter, and a refreshing dose of excitement. Book now and get ready to create unforgettable memories that will have everyone talking about your event for years to come!