Foot Rock Climb Wet/dry slide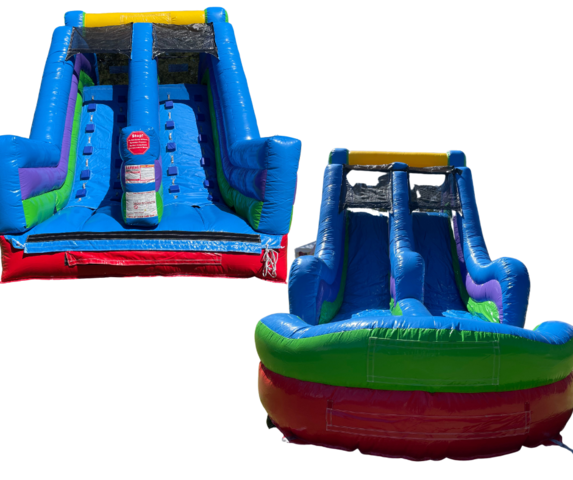 Setup Area: 36ft L x 17 ft W x 12ft H
Actual Size: 34ft L x 15 ft W x 10ft H
Outlets: 1
Age Group: 4 and up
Description
Introducing the Rock Climb Wet/Dry Slide, the ultimate adventure for thrill-seekers of all ages! This magnificent inflatable slide combines the excitement of rock climbing with the exhilaration of sliding, creating an unforgettable experience that will leave everyone wanting more.
Designed with safety and fun in mind, the Rock Climb Wet/Dry Slide is made from high-quality, durable materials that can withstand hours of active play. Whether you choose to use it as a water slide on a hot summer day or as a dry slide for year-round enjoyment, this versatile attraction promises endless entertainment.
Featuring a towering height and a challenging rock climbing wall, this slide provides an adrenaline-pumping adventure for both beginners and experienced climbers. As you ascend the realistic rock wall, you'll feel the rush of accomplishment knowing that you're conquering new heights. Once you reach the top, get ready to experience the thrill of a lifetime as you slide down the slippery slope, feeling the wind in your hair and the excitement in your heart.
The Rock Climb Wet/Dry Slide is perfect for backyard parties, corporate events, school carnivals, or any gathering where fun and excitement are on the agenda. Its vibrant colors and eye-catching design will instantly attract attention, making it a centerpiece of any event.
Safety is our top priority, which is why this slide is equipped with safety features such as sturdy handrails and a soft landing pad at the bottom. Our team of professionals ensures that each slide is regularly inspected and maintained to guarantee a worry-free experience for all users.
So, why wait? Take your event to new heights with the Rock Climb Wet/Dry Slide. Get ready for non-stop adventure, laughter, and memories that will last a lifetime. Don't miss out on the opportunity to create an unforgettable experience for your guests. Order the Rock Climb Wet/Dry Slide today and let the fun begin!