Generator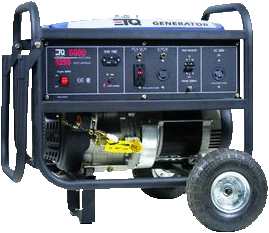 Description
Introducing our powerful and reliable Generator, the perfect solution for all your electricity needs. Whether you're camping in the great outdoors, hosting an outdoor event, or facing an unexpected power outage, our Generator will ensure that you never have to worry about being left in the dark.
With a robust engine and advanced technology, our Generator delivers exceptional performance and efficiency. It is equipped with a high-capacity fuel tank, allowing for extended run times, so you can enjoy uninterrupted power for longer durations. The generator also features a user-friendly control panel, making it easy to start, monitor, and adjust settings according to your requirements.
Designed with safety in mind, our Generator is equipped with multiple safety features, including automatic voltage regulation, overload protection, and low-oil shutdown. These features not only protect the generator itself but also safeguard your valuable appliances and electronics from potential damage.
Our Generator is built to withstand the toughest conditions, thanks to its durable construction and rugged design. It is equipped with a sturdy frame and robust wheels, making it easy to transport and store. Whether you're navigating rough terrain or moving it around your property, our Generator ensures convenience and reliability.
In addition to its outstanding performance, our Generator operates quietly, minimizing noise disruptions and ensuring a peaceful environment. This makes it an ideal choice for outdoor activities, camping trips, and even residential use.
We understand the importance of environmental responsibility, which is why our Generator is designed to be fuel-efficient and compliant with the latest emission standards. By choosing our Generator, you not only benefit from its exceptional performance but also contribute to a greener and more sustainable future.
Invest in our Generator today and experience the peace of mind that comes with having a reliable and efficient power source at your fingertips. Whether you're powering essential appliances during an emergency or enjoying the great outdoors, our Generator is your ultimate companion. Trust in its performance, durability, and safety features to meet all your electricity needs.