Jenga Yard Game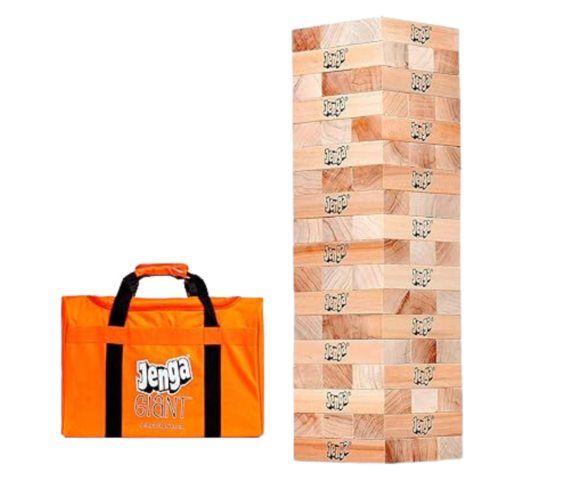 Description
Introducing the Jenga Yard Game - the ultimate outdoor entertainment for friends and family! This classic block-stacking game has been reimagined for the great outdoors, bringing endless fun to your backyard, beach trips, picnics, and more.
Crafted with premium, durable wood, the Jenga Yard Game is built to withstand the elements and provide years of enjoyment. Each block is precision-cut and sanded for smooth edges, ensuring safe and easy gameplay for players of all ages.
The objective of the game is simple yet thrilling - take turns removing one block at a time from the Jenga tower and carefully place it on top. As the tower grows taller and more unstable, the suspense builds, and nerves are tested. Who will be the one to make it topple?
With 54 blocks in total, the Jenga Yard Game offers countless possibilities for strategic moves and heart-pounding moments. It's a game that combines skill, concentration, and a touch of luck, making it perfect for parties, gatherings, and bonding experiences with loved ones.
Thanks to its portable design, the Jenga Yard Game can easily be taken anywhere. The blocks stack neatly in the included carrying case, allowing for convenient storage and transportation. Whether you're heading to the park, camping, or hosting a backyard BBQ, this game is always ready to entertain.
Not only does the Jenga Yard Game provide hours of laughter and friendly competition, but it also promotes teamwork, problem-solving, and fine motor skills. It's a fantastic way to engage with others and create lasting memories.
So, gather your friends, set up the Jenga Yard Game, and let the excitement begin. Get ready for unforgettable moments and intense battles of balance and strategy. Order your Jenga Yard Game today and elevate your outdoor entertainment to new heights!