Soft Play Setup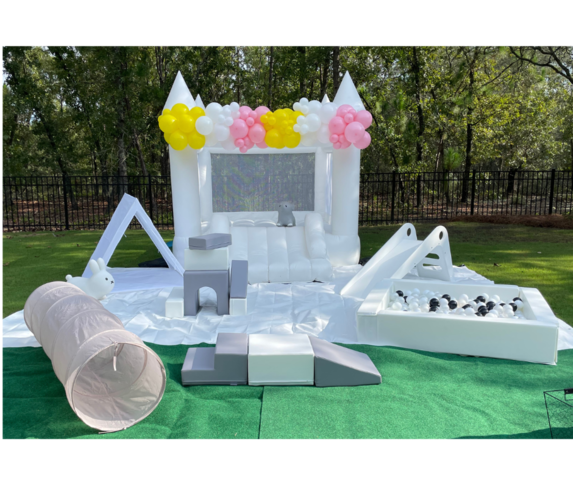 Setup Area: 14ft L x 18 ft W x 16ft H
Actual Size: 12ft L x 16 ft W x 11ft H
Outlets: 1
Age Group: 2 and up
Description
Introducing our Soft Play Setup, the perfect addition to any children's event or play area. Designed with safety and fun in mind, our Soft Play Setup is sure to keep kids entertained for hours.
Our Soft Play Setup features a variety of soft play equipment, including colorful foam mats, climbing blocks, tunnels, and slides. Each piece is made from high-quality, non-toxic materials that are easy to clean and maintain, ensuring a safe and hygienic play environment for children.
With its vibrant colors and engaging shapes, our Soft Play Setup stimulates children's imagination and encourages active play. Whether they're crawling through the tunnels, climbing up the blocks, or sliding down the slides, kids will have a blast while developing their motor skills, coordination, and social interaction.
Parents can have peace of mind knowing that our Soft Play Setup meets the highest safety standards. Each piece is carefully designed with rounded edges and secure fastenings to prevent any accidents or injuries. The soft foam mats provide a cushioned surface, minimizing the risk of bumps and falls.
Our Soft Play Setup is versatile and can be easily customized to suit any space or theme. Whether you're hosting a birthday party, daycare center, or indoor playground, our team can help you create a unique and engaging soft play area that will keep kids entertained and coming back for more.
Investing in our Soft Play Setup is not only a great way to attract families to your venue but also a smart investment in children's development and well-being. By providing a safe and fun environment for kids to play and explore, you'll be creating lasting memories and building a loyal customer base.
So why wait? Contact us today to discuss how our Soft Play Setup can enhance your space and create an unforgettable experience for children and their families.