Trackless Train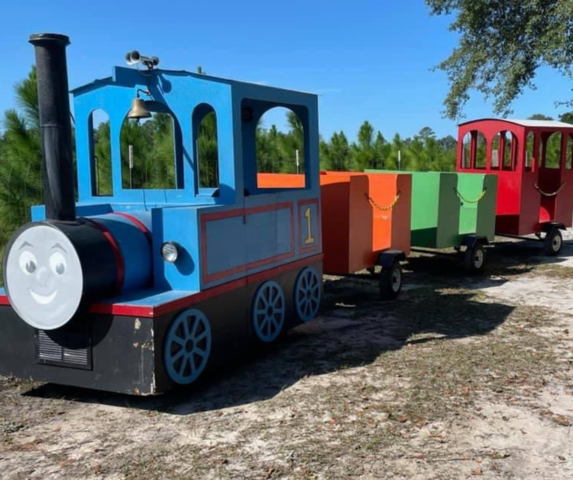 Age Group: Any age with adult supervision.
Description
Introducing our magnificent Trackless Train, the perfect addition to any event or celebration! This enchanting attraction is designed to bring joy and excitement to both children and adults alike.
With its eye-catching design and vibrant colors, our Trackless Train is sure to capture the attention of all your guests. It features multiple carriages, each equipped with comfortable seating and safety measures to ensure a smooth and secure ride.
The Trackless Train is not limited by tracks, allowing it to roam freely across any terrain, whether it's grass, pavement, or even indoors. This flexibility gives you the freedom to set up the train wherever you desire, making it a versatile choice for various venues and occasions.
Imagine the delight on children's faces as they hop aboard this whimsical train and embark on a magical journey. They will be transported to a world of imagination and adventure, creating unforgettable memories that will last a lifetime.
Our experienced and friendly train conductors will ensure a safe and enjoyable experience for all passengers. They will guide the train through a pre-determined route, showcasing the beautiful scenery and attractions of your event.
The Trackless Train is not just for children's parties. It is also a fantastic addition to carnivals, fairs, festivals, corporate events, and even weddings. Its charm and versatility make it a crowd favorite, appealing to guests of all ages.
So, whether you're organizing a birthday party, a community event, or a grand opening, our Trackless Train is the perfect choice to entertain and captivate your guests. Book our Trackless Train today and let the magic unfold at your next event!