White Folding Chairs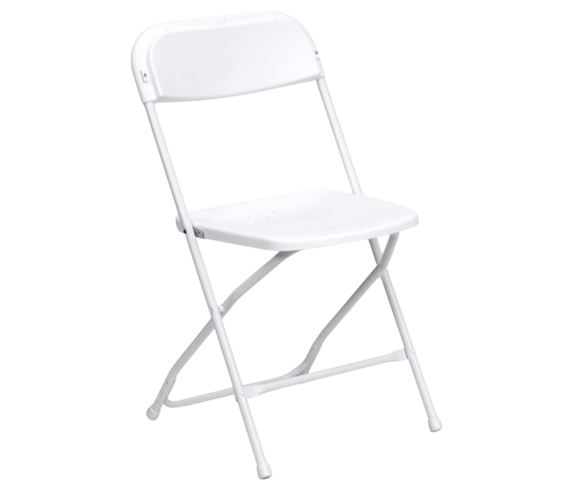 Setup Area: 1 ft L x1ft W
Actual Size: 1 ft L x1ft W
Description
Introducing our White Folding Chairs, the perfect seating solution for any event or occasion. These chairs are not only functional but also stylish, adding a touch of elegance to any setting.
Crafted with premium materials, our White Folding Chairs are built to last. The sturdy steel frame ensures durability and stability, providing a safe and comfortable seating experience for your guests. The white powder-coated finish adds a sleek and modern look that complements any decor.
Designed for convenience, these chairs are incredibly easy to set up and fold down. The folding mechanism allows for effortless storage and transportation, making them ideal for both indoor and outdoor use. Whether you're hosting a wedding, party, conference, or any other gathering, our White Folding Chairs are the perfect choice.
Comfort is paramount, and our chairs deliver just that. The contoured seat and backrest provide excellent support, allowing your guests to sit comfortably for extended periods. The lightweight design ensures easy maneuverability, making it a breeze to rearrange seating arrangements as needed.
In addition to their practicality, our White Folding Chairs are also easy to maintain. The high-quality materials used in their construction are resistant to stains and spills, making cleaning a simple task. With minimal effort, you can keep these chairs looking pristine for years to come.
When it comes to versatility, our White Folding Chairs shine. They can be used in a variety of settings, from formal events to casual gatherings. Their timeless design and neutral color make them a perfect fit for any theme or style. Whether you're aiming for a classic, contemporary, or minimalist look, these chairs will seamlessly blend in.
Invest in our White Folding Chairs and elevate the seating experience at your next event. With their durability, style, and comfort, they are a smart choice for any occasion. Order yours today and make a lasting impression on your guests with these elegant and practical seating solutions.